44th NEW SOUTH WALES TASAR CHAMPIONSHIP
2020-2021
Friday April 2nd - Sunday April 4th, 2021
The Tasar Association of New South Wales Inc. (TANSW) in conjunction with Speers Point Amateur Sailing Club (SPASC) and Event Sponsors `Lake Macquarie City Council', invite you and your crew to the 44th New South Wales Tasar Championship to be held on the waters of Lake Macquarie, New South Wales from Friday 2nd April to Sunday 4th April, 2021.
Race Venue
Races will be held in the area known as Cockle Bay and Warner's Bay, Lake Macquarie, on waters in the vicinity of the SPASC clubhouse which would be used as the race centre.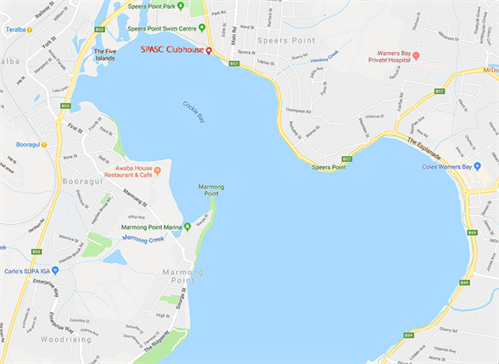 Eligibility and Entry
Entries will only be accepted for Tasar Class dinghies, whose skipper and crew are both members of an affiliated Sailing Club and one whom is a financial member of a Tasar Association which is affiliated with the World Tasar Council.
To join your local NSW Tasar Association, please link to our Membership form here
Race Documents
1. ENTRY - the link to `online Entry' is here
2. NOTICE OF RACE - NoR includes Registration, Measurement, Racing Sessions & COVID-safe Reg's
3. SAILING INSTRUCTIONS - print off your copy here (a limited number of hard copies will be available at registration)
4. RESULTS - Click here for latest ScoreIt Results!
Rigging
SPASC has adequate foreshore & grassed rigging areas together with a suitable location for storage of boats adjacent to the clubhouse, and a large parking area.
They have 2 areas (including ramps) providing suitable facilities for launching and retrieving dinghies via trolleys rolling into the water
Camping & Accommodation
SPASC is surrounded by the green spaces of Speers Point Park, including a number of camping sites available at a nominal cost of $32 per night - contact Bill Sharland, email billsharland1@gmail.com. The club toilets and showers will be left open overnight for campers' use. A refrigerator is also available in the clubhouse for storage of food etc.
Accommodation - there are several accommodation options nearby, see link here www.visitlakemac.com.au/accommodation
Canteen
SPASC has a canteen that will be open for lunches each day and tea/coffee at other times. SPASC does not have a liquor license but entrants are invited to BYOG. Food is also available at outlets at nearby Warners Bay, Boolaroo and Speers Point Park.
Event Sponsors
TANSW and SPASC acknowledge and appreciate the generous support of the following SPONSORS of this Event
Regatta Write-Up on `Sail-World' - see article here !