Update on 2007 Tasar Worlds in Hawaii

The World Council is considering holding a Tasar World Championship in 2007, in either Hawaii or Thailand. A decision on whether to hold a Worlds in 2007, and the venue and dates, must be made within the next few months.
The Japan Tasar Association has agreed that a Worlds in 2007 will be followed by a Worlds in Japan in 2009. If we do not have a Worlds in 2007, Japan will host their Worlds in 2008.
If we have a Worlds in Hawaii, the venure would be the Kaneohe Yacht Club. The proposed dates are September 15 to 21, 2007. You can check out the KYC website at kaneoheyachtclub.com.
At this point we don't have firm information on costs, but are guessing at least $600 USD in entry fees. Kaneohe YC would provide all race committee, support and rescue boats and staff. They could host a BBQ one evening, and the presentation dinner. The entry fee will vary, depending on the number of entries, so if we go ahead, we will be looking for a commitment well in advance of the event.
All boats would have to be shipped in containers. It might be possible to include one or two boats for charter by competitors from countries that could not fill a container.
We are working to get more information, particularly on the entry fee. I will post information as soon as it becomes available.
All feedback and discussion is welcome. Comments from Jonathan McKee are posted here.
Richard Spencer Executive Secretary, WTCA
Comments on a Worlds at Kaneohe from Jonathan McKee

Here are my thoughts on Kaneohe Bay for the Tasar Worlds, please feel free to publish or distribute as you see fit.

I have two experiences with Kaneohe Bay, both very positive. First was the finish of the Pacific Cup in 1998. It was very early in the morning, and after being at sea for 9 days, we were motoring around the edge of the big reef that protects the bay, and into the calm water of Kaneohe Bay. I will always remember the sight of the sun rising over the high cliffs inland of the bay, covered with tropical growth. The air was so soft and fragrant with flowers, the birds were singing, the senses were overwhelmed. It really seemed as though we had arrived in Paradise...

I returned to Kaneohe Bay in 2001 for the 49er Worlds. Such a big regatta had never been held there, so everyone was curious how it would go, both ashore and on the water. But after sailing for a couple days, there were no more doubts, the place was fantastic! Most importantly, the racing was excellent. The wind was between 10 and 20 knots, with some interesting tactics, but not crazy shifts. The water was a little choppy near the start, but pretty smooth at the windward mark. Best of all, the water is so warm, you can sail in a bathing suit. The local race committee did a great job, and the regatta came off without a hitch. It was one of the best 49er Worlds ever.

On shore the scene was pretty relaxed. There was room in the parking lot for all 60 49ers. There are only 2 ramps, so launching had to be sort of coordinated, but in the end it worked fine. The club has great facilities but is also very relaxed, and they welcomed us completely. The snack bar was especially well used, and the tropical drinks from the bar were outstanding. There is a range of accomodations available. Most hotels are fairly pricy, but there are also lots of B & Bs and funky little motels and such, which are pretty cheap. I think some competitors stayed in club members houses as well.

In my opinion, Kaneohe Bay would be a terrific place for the Tasar World Champs in 2007. The sailing is as good as you will ever find, and the place is just kind of magical.

Jonathan McKee
Proposal for 2007 Tasar Worlds in Phuket, Thailand

A proposal, prepared by Jonathan Ross, for the Australian Tasar Council to hold a World Championship in Phuket, Thailand, in July 2007 has been circulated to the World Council. The full proposal is available here.

Jonathan and other members of the ATC have done a tremendous amount of work to come to an agreement with Skiff Asia and develop this proposal, and I believe they have planned a great event. I hope that the World Council will approve it, and that Tasar sailors from all regions will be able to take part and enjoy some superb sailing in an exciting new venue. There is still a tremendous amount of work to be done, but the key pieces are in place for an outstanding World Championship in 2007.

If this proposal is approved by the World Council, the 2007 Worlds in Thailand will be followed by a Worlds in Japan in 2009. If the World Council does not approve this proposal, there will be no time to consider any other proposals for a 2007 Worlds, and Japan will host their Worlds in 2008.

The other venue we considered for a possible Worlds in 2007 was Kaneohe, Hawaii. Unfortunately, in spite of some positive initial feedback from the Kaneohe Yacht Club, our attempts to work out the details of a proposal for a Worlds were not successful. This was disappointing, but fortunately the proposal from the ATC offers us the oppportunity we were looking for to hold a great Worlds in 2007.

My thanks to Jonathan and the ATC for all their work so far, and for their willingness to take on the task of organizing a World championship in Thaliand. I hope to be able to report the World Council's decision on this proposal no later than May 10.

If you have any thoughts about this proposal, please share them on the TasarSailors list (go here to join) , or with your representatives on the Tasar World Council.

Richard Spencer
Executive Secretary, WTCA
World Council approves 2007 Tasar Worlds in Phuket, Thailand

The World Council has approved the ATC's proposal to hold the 2007 Tasar World Championship in Phuket, Thailand. The full proposal is available here.

More information on the 2007 Worlds, and a Tasar Worlds website, will be available soon. For now, mark the dates:

July 2nd to 11th, 2007

and start planning to come to the next Tasar Worlds.

Richard Spencer
Executive Secretary, WTCA
Official Announcement of the 2007 Tasar Worlds
After a widespread search to narrow down a time and venue for the next Tasar Worlds, it is now official the next World Championship will be held in Phuket, Thailand from 2nd to 11th July next year.
I would like to extend an invitation to all Tasar sailors, friends and relatives to attend the event. Your regatta and accommodation venue is pictured on the right. I think it is fair to say the prospect of sailing off this beach looks rather inviting. You'll even get to rig on the lawns in the shade of the palm trees!
Rather than go into detail about the regatta here, please visit the event website at www.tasarworlds.com. Here you will find the information you need regarding race management, accommodation, entries and local attractions to help plan your visit to Phuket and your regatta participation.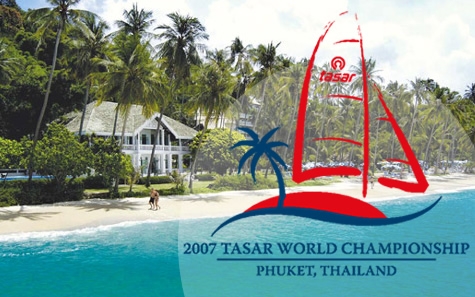 If early indications are anything to go by, it is shaping up to a magnificent regatta with all the elements required to make this a "once in lifetime, must do" event. The prospect of good winds, fair sailing waters, exotic, tropical location and an all-in atmosphere with all participants staying at the one, luxury location is a package we hope few can resist. Hope to see you in Phuket.
Jonathan Ross President Australian Tasar Council