2016-2017 Australian Tasar Nationals
30 Dec 2016 - 7 Jan 2017 - Port Stephens, NSW, Australia
You now have the ability to download photos both from Days 3 to 5 of Racing and from the Presentation Night in the following dropbox here. Anyone with this link is able to view the folder and copy files from it. No password is required, you just need to have a dropbox account and the link to it.
Keep in mind, you do have the opportunity to order images and variable sized prints of higher resolution of our Race Day photos from our Event's Official Photographer, Beth Morley. Any enquiries concerning orders, Beth is happy to assist and can be emailed directly at beth@sportsailingphotography.com

REGATTA BRIEF
The following brief has been put together as a Summary of our Regatta last week, and forwarded for reading at leisure. It's by no means comprehensive, but hopefully touches on our Race Results, our `fun times' and our thanks to everyone that took part & made it happen!
----------------
The 44th AUSTRALIAN TASAR CHAMPIONSHIP typified what Tasar Regattas are all about ~ a class of sailors thriving in the excitement of competing against fellow interstate rivals, enduring plenty of serious racing in conjunction with an engaging social calendar, and in a fabulous location! Congratulations to our Regatta Champions this year, Rob & Nic Douglass! Not only did they pick up their 7th National Title but showed us the magic of their `father/daughter team skills' drawn to perfection over 20 years training together.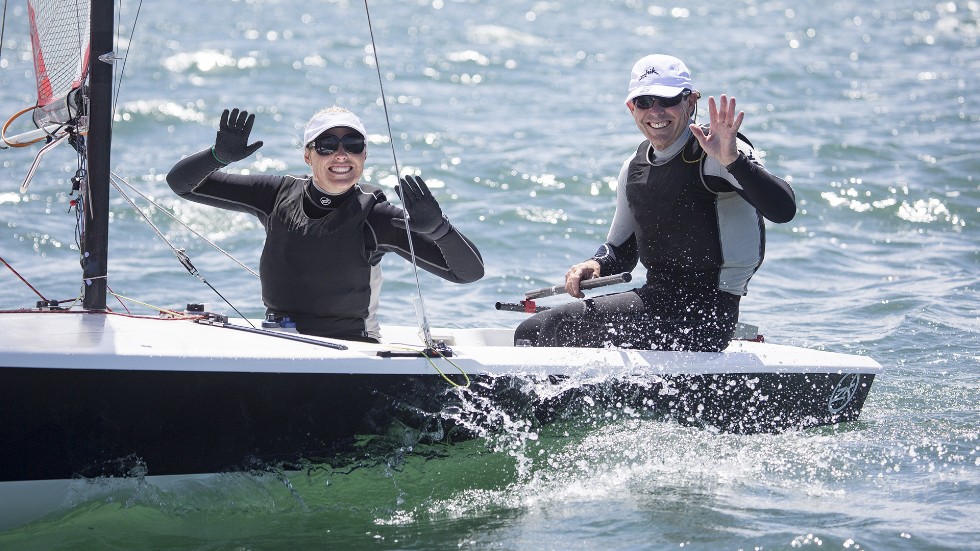 The 44th regatta since the original at Northbridge SC, was held at Soldiers Point in Port Stephens NSW, over the New Year's period. It attracted 81 entries with competitors representing almost every State & Territory, including international visitors and a two day `guest appearance' by Olympic Laser Gold Medallist Tom Burton. With such a sizeable fleet, it was `split' into two Divisions, with sailors in both Red and Blue Divs undergoing three Race Days of qualifying for the final two Race Days in tiered Gold and Silver Divs.
Regatta Winners
As with any major Event, the Regatta began with an `Invitation race', an opportunity on this occasion to recognise one of the class's dearest and most devoted sailors Duncan Robertson who passed away last month. In his honour, black ribbons were strung on mainsail battens as wind conditions that day were light to moderate S/SE's. Breezes generally kept this direction for the entirety of the Regatta week, picking up strength regularly to provide competitors with good hiking up the beats, fast rides along the reaches, and the occasional `altercation' at marks. In addition to tides, currents and waves, sailors also encountered giant `jelly fish' that knocked and even stuck to foils, and broke a few rudder strings.
This however did not prevent our champion sailors of the week achieving top results! With Rob & Nic stealing the show on 17 pts (over 10 completed races & 2 drops), their closest rivals in 2nd & 3rd positions, were only 4 and 5 pts away ~ Navy Sailing's Rick Longbottom & Darryl Bentley, and SA's Craig McPhee & Gill Berry. Following in 4th & 5th were Victorians Paul & Bronwyn Ridgway, and Heather MacFarlane & Chris Payne. Credit goes to those challengers, including defending Champion Aaron Linton who was placed 11th, after a miraculous last minute effort to drive down from his Qld cane farm to enter. Chris Dance, current Tasar World Champion came in 6th after a couple of Division wins, whilst James Burman with his `fill in crew for Finals Race days, Tom Burton' flew into 7th spot picking up a couple of nice 3rds & a 1st in Gold Fleet.
Our winners in `Silver Fleet' additionally deserve recognition, as the battle for first was won by WA's Dean & Zoe Dixon, with Qld legends Greg & Judy Heath in 2nd and Army Sailing's Ben Wolski & Bronwyn Turner in 3rd, after finding form to finish 1st in their last 2 races. Tying with Ben on points was WA's Neil & Wendy Harrison in 4th, with Balmoral SC's Killian Sargent & Yvonne Murray just 2 pts behind in 5th.
And what about the rest of the fleet? Stories were shared of the many `moments of glory' had by competitors, whether they be the first in the fleet to round the windward mark, perfecting an inside overlap, catching boats on a reach, catching fish while doing so, even having u bolt/jib strings survive the distance in holding up masts upon forestays snapping (the latter occurring to two Navy/ ex-Navy boats, an indication of their expertise in knot tying!)
Our Category winners this Regatta? 1st in Junior helm went to Georgia Llewellyn (Georgia also was 2nd Female helm and 34th overall); Heather MacFarlane maintains her unstoppable run as 1st Female helm; 1st in Masters were Rob & Nic; 1st in Grand Masters were Craig & Gill; and 1st in Super GM's were Paul & Bronwyn. Without exception, all three latter crews are ex Tasar World &/or National Champions.
Check out the Full Regatta Scratch & Divisional Results here!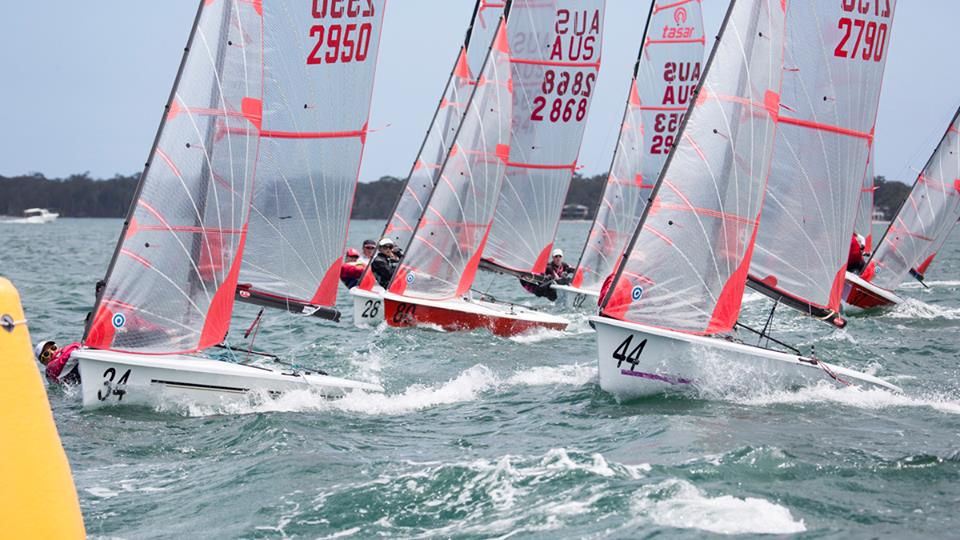 Social Stuff
True to Tasar Regattas, the TANSW Organising Committee ensured competitors could all relax, unwind and be entertained between racing. The Regatta week kicked off with a New Year's BBQ at the Clubhouse, viewing Nelson Bay's late evening fireworks, and a Welcome Night with introductions by the Committee and talks from our host Club's Commodore of the Port Stephens Sailing & Aquatic Club (PSSAC) and major sponsor RONSTAN. The RONSTAN presentation hour was then the highlight of our race day afternoons, as representative Alistair Murray & wife/crew Tracy delivered RONSTAN prizes to Division & category winners, as well as for stories addressing sailors' general mishaps & disasters, the funny side always being revealed especially after a couple of complimentary champagnes & beers.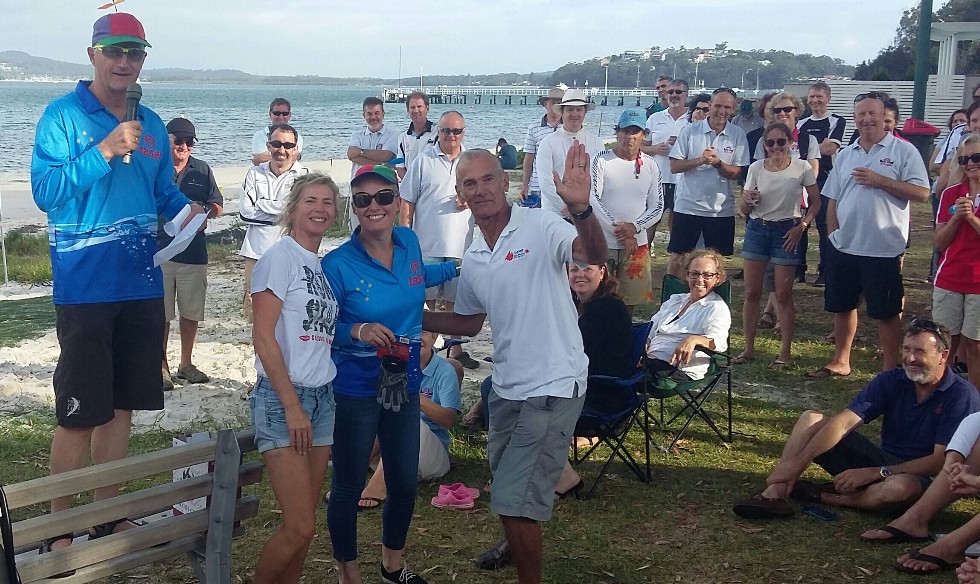 The Hunter Valley winery tour was midweek, and provided a fun filled `Lay Day' for a bus load of Tasarites. They tasted wines, ports & liqueurs from three wineries, sampled paddles of brewery beer, sipped on expresso martinis, ate cheese platers plus a gourmet lunch all the while being ushered by Rob to `keep moving', so as not to fall behind times at each venue! - a trait he puts to good use in racing!
Finally on the Social Calendar was the Presentation Night which highlighted and recognised the week's racing achievements, as well as the efforts of our volunteers & Committee members. Darwin SC provided us with a run down on the next Nationals in July 2018, as did Pete Ellis in regards to the forthcoming Worlds in Japan & the UK, whilst Nicole Kidman was applauded up on stage as our new ATC President! A running slide show took place throughout the night of our `on the water' shots taken by the Regatta's official photographer Beth Morley of SportSailing Photography (see her Gallery of pics on Race Days 3 to 5 here). Presentation Night photos were taken by our Regatta & Committee volunteer Fiona Powell & TANSW Registrar Sean Mullin (click in the dropbox link to these & Beth's photos here).
Thanks
Regattas as we know, need lots of volunteer backing. We especially thank the members of the PSSAC for their function & lunchtime catering, and use of their Clubhouse; to our offshore officials including the members of the Port Stephens YC, Rhys Llewellyn and Georges River SC (GRSC) Commodore Andrew McLaughlin; our jurors and PRO Jeremey Atkinson; our onshore helpers during the `rigging area set up' including the Navy contingent, and during `registration, weigh in & measurement', namely the members of GRSC. Thanks also goes to the local community & holiday makers for use of their foreshores, to the local Port Stephen's radio & Examiner Newspaper for broadcasting details about our Regatta, to special people such as Noelle Robertson for her invaluable presence and helping out with trophy presenting, to Chris Parkinson `Parky' for being hands on with repairs & spare parts from the NB Sail Sports van, and his wife Beryl for officiating the sign in & out each race day. Lastly praise goes to all members of the NSW Tasar Association Committee & their support crew for the year long effort to achieve their goal for a well organised and `fun' Regatta for all.
Jenny Sorensen, Publicity Officer
TANSW Committee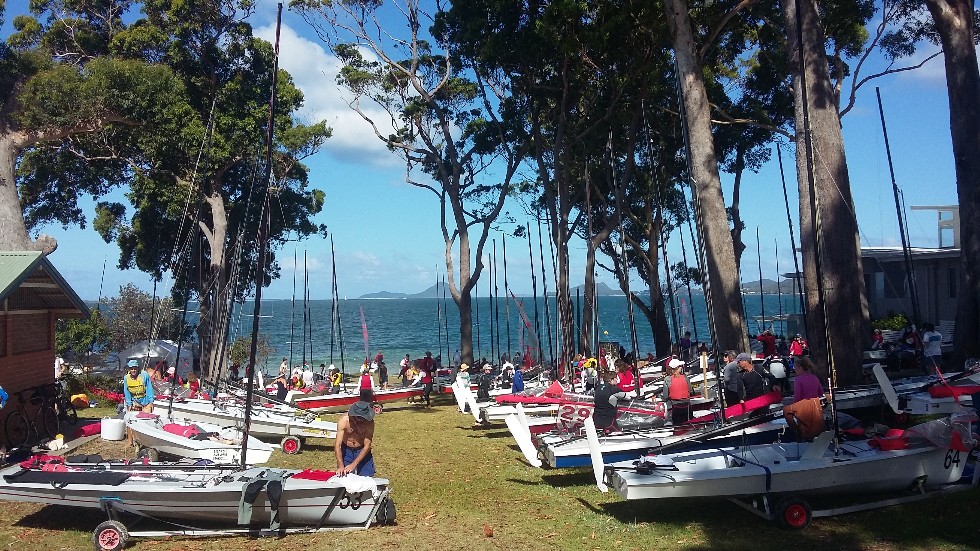 Notice of Race
NOR Tasar National 2017.pdf (139 KB)



Sailing Instructions
SIs 44th Tasar National Championship
Race Results
Check out latest Race Results here
Sailing Divisions
For the latest updates to sailing divisions, please refer to:
http://tinyurl.com/AusTasarChamps16
Online Entries

To enter online (via the TryBooking website) please open the Online Entry Form.
Admin notices
24 Dec 2016 - No further refunds will be available, since the full cost of the event has now been incurred.
23 Dec 2016 - As per the notice of race, an additional late fee will apply for late registration on 1 Jan, without prior arrangement. The late fee is non-negotiable, and has been set at $200.
Registration and Measurement
Details of the process including directions on where to drop off your boat, which is the first step, have been described by the Measurer: Registration and Measurement for Compeitors [PDF]
Social Events
Tickets to most of the events are limitted by capacity. Book Now to avoid missing out.

New Years Eve BBQ


*** Additional tickets must be booked prior to registration ***
31st Dec 2016 (6pm - 10pm)
Port Stephens Sailing & Aquatic Club

$35 per person
Book now

Welcome Night
1st Jan 2017 (6pm)
Driftwood Room, IBIS Styles Salamander Shores

Included (for skipper and crew)
$25 per additional adult
$0 for kids (must be booked)
Book now

Australian Tasar Council AGM
4th Jan 2017 (10am)
Port Stephens Sailing & Aquatic Club



All welcome!


Hunter Valley Winery Tour
5th Jan 2017
Including lunch, coach to two wineries, plus a brewry visit.
Contact Rob Douglass for more details: rob@sunsetmedia.co

$90 per person
Book now *

* If you prviously paid a deposit, arrange
final payment with Rob Douglass.


Presentation Dinner
*** Additional tickets must be booked prior to registration ***
7th Jan 2017 (6.30pm)

Soldiers Point Bowling Club


Included (for skipper and crew)
$50 for additional adults
$20 for kids
Book now

RONSTAN Half Hour
1st Jan (Welcome Night)
2nd, 3rd, 4th & 6th Jan. Boat Park after sailing.
7th Jan (Presentation Dinner)

Included (for skipper and crew)

Official Trailer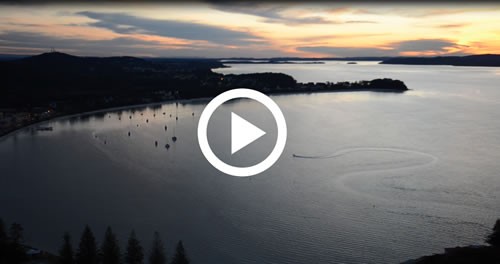 Port Stephens is a holiday destination, three hours' drive north of Sydney. Direct flights from Brisbane and Melbourne will get you to Newcastle Airport, which is 30 minutes drive from where the regatta will be held.
Port Stephens Sailing and Aquatic Club is located on a peninsula, with a wide range of holiday houses, caravan park accommodation and camping all within walking distance of the boat park and main evening venues. Whilst there are a lot of options, this is a popular destination in December and January and it will fill up, so it's best to book early.
Activities for the family include dolphin cruises and trips to beautiful surf beaches or the amazing sand dunes a short distance away. There are four championship golf courses around Port Stephens, sensational scuba diving sites, and amazing restaurants at nearby Nelson Bay. Wine tasting at NSW Hunter Valley is another option for the lay day, being an hour's drive away.
Program
30 Dec - early rego (1300 -1700hrs)
31 Dec - registration (0800 -1400hrs)
1st Jan - invitation race and welcome night
2nd Jan - championship racing starts
5th Jan - reserve day
7th Jan - presentation evening
Split Fleet
Notice to Competitors regarding the Split Fleet decision
Venue
Port Stephens Sailing & Aquatic Club: PSSAC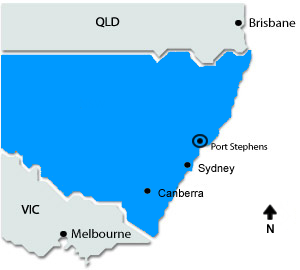 Click image to launch Google Map: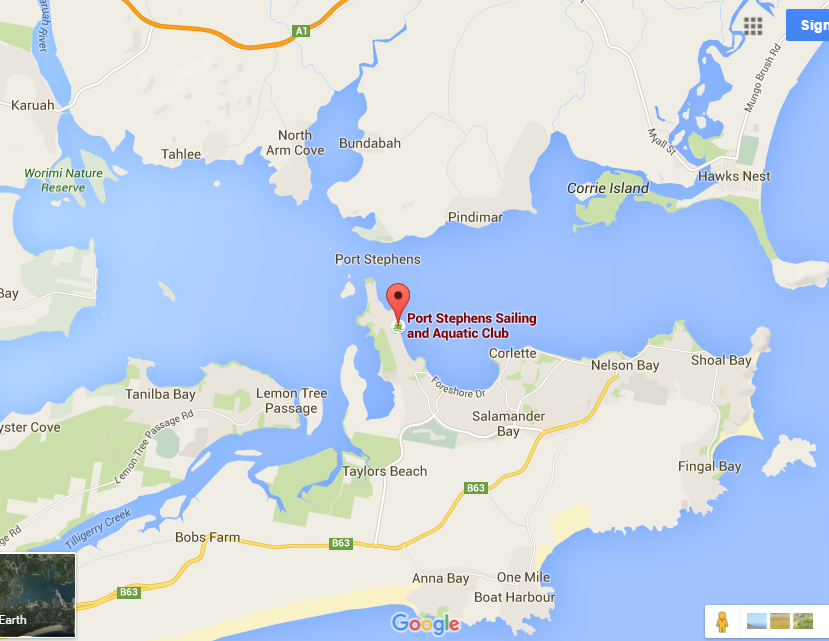 Promotional Poster (for club noticeboards)
Download the Promotional Poster [2.1 MB, PDF]
Registration & Measurement
Includes Arrival info & Measurement Checklist for competitors
Social Events
https://www.trybooking.com/Embed.aspx?eid=249661
Area Site Maps