JAPAN here we come!
15 June 2017
4 shipping containers holding 33 Tasars have just left Australian shores bound for TASAR WORLDS 2017! Read a recently published article on our Australian Tasars heading to JAPAN below.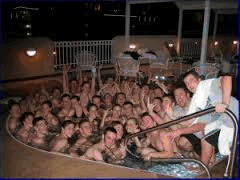 `Futons, hot springs and traditional Japanese hospitality are not the only items that await Tasar sailors heading to the Honshu seaside city of GAMAGORI for TASAR WORLDS 2017, 30 July-6 Aug. They'll also face high level competition and racing in Japan's softer breeze conditions making for that `extra challenge', especially for crews on the slightly heavier side!
Australia will have one of its largest ever fleets competing in Japan with 33 boats being loaded onto containers at ports in WA, NSW and VIC. They'll be competing against a very strong US team amongst others, including Jonathon & Libby McKee who together hold 3 Tasar World titles and are former gold and bronze medal Olympians in the Flying Dutchman and 49'er Classes, Jay & Lisa Renehan (Tasar World Champs in 1992 and 3rd at the last Worlds at Geographe Bay WA), and Mike Karas & Molly Jackson (multiple Nth American Tasar Champions). There is also the threat of a strong local Japanese fleet as word circulates that these Japanese sailors have slowly but surely become better Tasar sailors, achieving gradually higher placings in World events. Their combined lightness in crew weight will also favour expected conditions.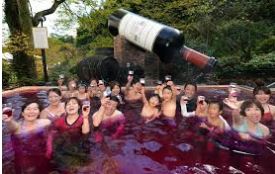 So how does the Australian Tasar fleet weigh up? Fortunately, along with having one of our largest contingents we also have one of our strongest! Defending World Champion Chris Dance, pairing up with former National Junior Helm winner Jeremy Elmslie will be there, as will twice ex-World & current National Champion father and daughter team, Rob & Nic Douglass. 2004's Australian Female Sailor of the year, Krystal Weir will also be competing with crew member Kate Goss. Two time Olympian in Laser Radials, Krystal claimed victory in the Women's Laser Radial World Championship in 2004, and was the Women's Hobie European and World Champion respectively in 2014 and 2016.
Two more prominent Australian Tasar sailors who juggle between classes include James Sly, ex-European runner up and twice National Champion in 29'er, and Heather Macfarlane. As Tasar's National Female Helm title holder for 9 years, Heather will prove to be a strong contestant in the world fleet sailing with crew member Chris Payne who together are this year's National Fireball Champions, rated in `Fireball's top 5 in the World'.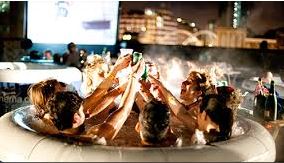 We also have many top competitors who have been in the Class for many decades, including Australian Navy's Rick Longbottom (winning Worlds in 1986), former British & Australian Navy's Martin Linsley (ex-European 1986 and Japan Nationals Champion 1991) and 5 times Australian Nationals Champion, Craig McPhee (spanning from 2000 to 2008).
TASAR WORLDS 2017 will actually be Japan's 3rd staged World Championship event. World competitions for Tasars have been held annually since 1981, that year sailed on Canberra's Lake Burley Griffin. Subsequently its location has moved all around the world hosted by Tasar Associations in the Nth America, England, Thailand and Japan, as well as Australia. The Class has also taken a foothold in New Zealand and Europe, with representatives from the Netherlands, Germany, Italy and Ireland.
It's not surprising this Class proves popular throughout the world, and why it's not uncommon for sailors skilled in another class to swap across. Tasars are renowned for their `all time good fun sailing', where people of all ages from youth to great grandmasters regularly compete both at Club and Regatta level. They were born out of the design concept developed by Sydney's Frank Bethwaite in the 1960's, who believed in a boat capable of being handled by a man and a woman, and built for lightweight high performance speed and planing. Being of a very strict one-design, he ensured its racing was determined by skill and not boat. Latest statistics show that 80% of Tasar fleets have at least one female, a characteristic of this Class which ensures that the fun continues off the water. After enjoying a taste of Tasar sailing in January's Nationals, who would have thought Rio's Olympic Laser Gold medallist TOM BURTON with crew member Emma Knighton, would be racing his own Tasar in the NSW States this Easter?
To be part of the next great adventure, contact `Adrian' at anicholson@mmal.com.au and check details at http://tasarworlds2017.org/...
Jenny Sorensen'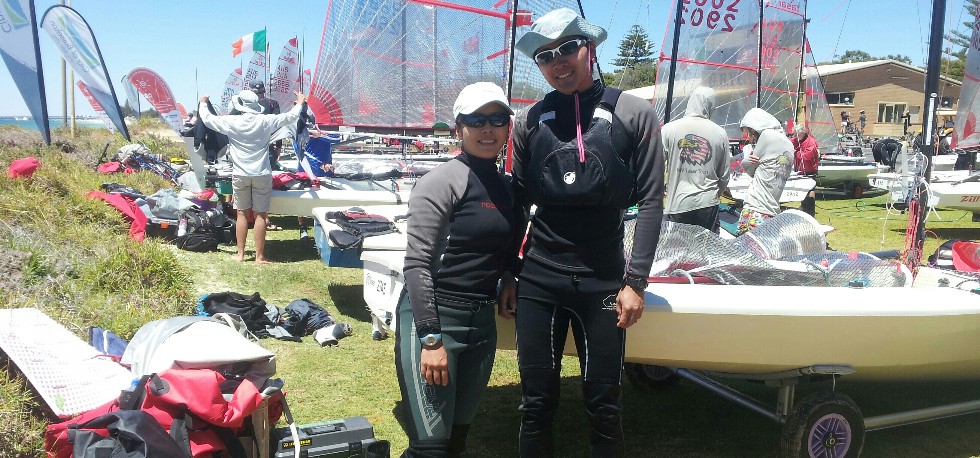 TASAR WORLDS Busselton WA, Jan 2015
ADDENDUM
1. James & Tara Burman now join our Australian team! James is a State & National multi-class Champion & ex-World's Open Laser Radial runner up. Tara herself is a multiple NS14 & MG14 National Champion forwardhand
2. 2016's Laser Olympic Gold Medallist, Tom Burton ran `runner up' at 2017's NSW Tasar State Titles
3. It may be too late to load your Tasar onto a container, but it's not too late to enter TASAR WORLDS 2017. Entries are accepted until 14 July (you may need to charter that boat however!)
4. And yes .. AUSSIES love their hot tubs!!