The below clubs all have there own club based programs. If you have a club report, or would like to talk about hosting a TT next year get in touch with the committee.
Checkout our escapades on facebook https://www.facebook.com/TasarNSW
The TANSW Traveller's Trophy (TT) events and Metro Series are sailed at a range of clubs throughout the season and combine to form one series. This is a great way to see other Tasar clubs around NSW and not only race and learn from each other, but enjoy the social aspect of the Tasar class as well. For more information on the TANSW TT events click here.
`Nationals 2013' ~ hosted by WSC
Saturday
Balmoral `Balmoral Sailing Club (BSC) is at the south-eastern end of Balmoral Beach and our sailing area is vast. Our PROs know how to use the large area to ensure that we maximise our sailing opportunities. There is a large grassy area for rigging boats, and boats are launched and retrieved straight off the beach. Racing is on Saturday afternoons from September to May. Our start time is 1300 in Sept, and 1400 from Oct to May. Although competitive, the BSC sailors are friendly, supportive and sharing when it comes to learning more about the rigging and sailing of the Tasar. Looking forward to seeing you there'! Pia Lehtonen-Davies

piald@icloud.com

Jervis Bay There are currently two boats sailing on the beautiful waters of Jervis Bay, although the members are just as likely to be off racing at TT events. Racing kicks off at 1.30pm. If you feel the need to get out of Sydney, visitors are always welcome! Rob Douglass rob@halesdouglass.com.au
Speers Point Come join our small fleet of Tasars for a sail on Lake Macquarie, with competitive racing on Sat's. Rigging & launching at Speers Point Amateur SC. Contact Neil Long neillongsailing@gmail.com

Concord Ryde Concord & Ryde currently have six Tasars sailing on a Saturday in very safe waters with plenty of parking available in a parkland setting. We are known as "the friendly Club" - Racing kicks off at 2pm. Be great to see you there! Nick Brown nick_brown_wgdm@yahoo.com
Queens Lake

There are 3 club boats which are used regularly and two private boats which currently race. We are lucky to have two venues to sail at up here: Queens Lake on Saturdays and Port Macquarie on Sundays. Start times 1pm outside of daylight savings, and 2pm during daylight savings. Both clubs start their seasons in Sept, and finish in April. Paul Robertson plr4@bigpond.com

Dobroyd Aquatic Club has a competitive Tasar fleet who regularly race on the flat safe waters of Iron Cove. The facilities are excellent with easy free parking and easy setup and ramp access. Mark Schafer mark.schafer@gmail.com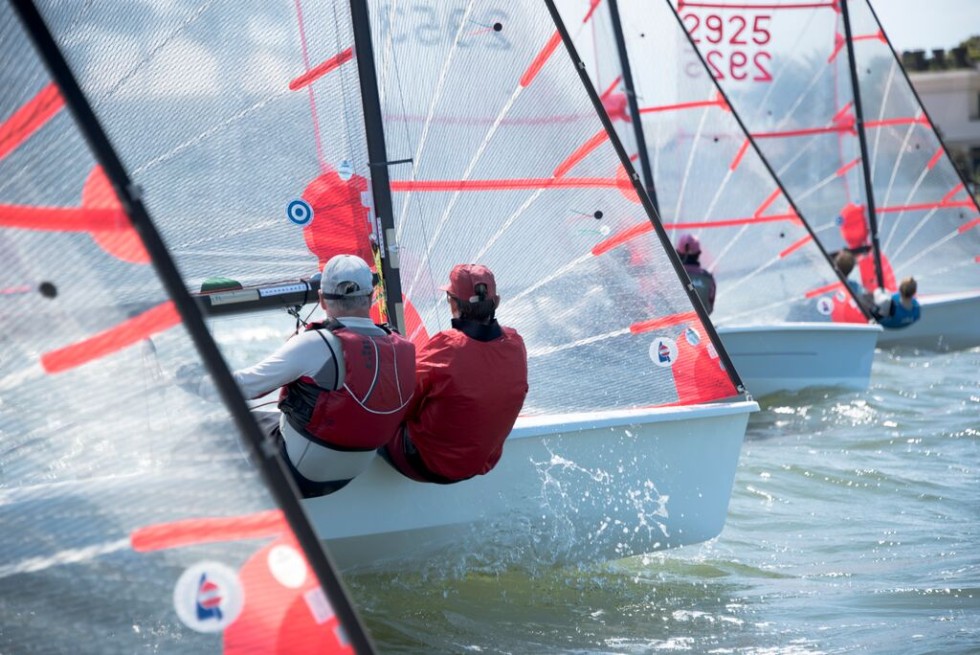 `Start Line' TT1 Oct 2015 ~ GRSC (photo courtesy of TANSW member Fiona Powell)
Sunday
Woollahra Summer Pointscore racing commences at 1.30pm & Winter racing at 10am each SUNDAY. Typically we have 8+ boats racing each week during Summer engaging in three short races with triangles where possible. The club is not licensed but visitors are most welcome to come and join us for a beer & sausage on the balcony after racing. Only one of the best views in Sydney! Vistors Entry fee is $10. We have a weekly e-newsletter "WSC - Tasar News" that keeps all members up-to-date. If you would like to subscribe contact the TANSW and they will put you in touch. Mike O'Brien obrienmj.o@gmail.com
Port Macquarie see Queens Lake above
Northbridge

Northbridge Sailing Club, located in upper Middle Harbour provides a fabulous venue for competitive racing in a community environment. These very waterways inspired Frank Bethwaite to develop the Tasar (see How the Tasar Started). Most Sundays we have 4-6 tasars racing and there is secure, covered storage at the club for up to 12. Given the easy rigging and deep water access from the club's pontoon, you can arrive and be on the water in 30 minutes, with starts just off the club in the prevailing NE breezes. We have a competitive fleet with a history of National and World Champions as well as several "inter-generational" crews racing making for a great family afternoon out and providing plenty of stories to tell. Races start 2pm on Sundays - moving to 2:30pm during the three months of summer. Come join us - Tony Stephens tony.stephens4@gmail.com

Canberra - Canberra Yacht Club races on Sunday afternoons in summer and winter, and the YMCA SC races on Saturdays. Both clubs run professional learn to sail and racing courses through the summer. The ADFA and ANU sailing clubs both have racing Tasars and join-in with the public clubs. With world, national, and state champions living in Canberra the standard of racing can vary from novice to expert. The ACT Dinghy Championship around the middle of November is often a NSW Travellers Trophy event. The lake offers good fresh water sailing in the nation's capital. Twilight racing also takes place on Tuesday (YMCA SC) and Wednesday (CYC) evenings at 6 pm. Contact - TBA
Kogarah Bay KBSC has up to 3-4 boats racing most Sundays this year. `We kick off at 2pm every week and visitors are welcome to join us any time'. Cliff Lewis clifflewis54@optusnet.com.au
Georges River Sailing Club GRSC offers clear air sailing either out on Botany Bay or at the mouth of the Georges River, hosting both a sandy beach and vast grassy areas for rigging. Commanding sweeping views over the Bay, GRSC maintains modern facilities including bar, dining and function room. Downstairs there is a café, club room and boat shed with direct access to male and female toilet and change rooms.` We sail alternate Handicap, Championship and Sprint Series races on Sundays through the months of Sept to April, starting at 1pm. Visitors are most welcome'! Mark Hooper mark@m101.net.au