~ FINAL RACE REPORT ~
The 2016 TASAR NSW CHAMPIONSHIPS have been held, and they certainly had almost a `Nationals' feel as we welcomed 3 Victorians, 3 Qlders, 1 SA & 4 ADFSA's to the 42 boat fleet. Stealing the State Title's victory were our very special Victorians & ex World Champions Paul& Bronwyn Ridgway. Not only did they take the NSW Trophy home with them, but also the honours in being the first known `Super Grand Masters' to ever win a State Championship.
Without further ado, our State's runner up was NSC's `Serendipity' sailed by Hugh& Anna Tait, followed by CYC's `Navy Sailing' skippered by (also ex World Champion) Rick Longbottom & crewed by Darryl Bentley. As tight as it was at 3rd, within 7 pts behind `Navy Sailing' came Michael `Quirky's' `Trouble', Peter Ellis's `Positively Undecided' & Tara Wilson's `Blurred Lines'. However, as with any Regatta the jubilation comes down to personal enjoyments and those individual challenges with the boat next door wherever you are on the race course! Here is how the 3 days went.
Fri's DAY 1 greeted competitors with initial sunny skies and a light breeze from the SE. However it was not to last as boats headed out to the Start at midday under growing gloomy skies & diminishing breeze replicate of a ghostly millpond. Ducks were paddling around, seagulls were eyeing off schools of fish, all which creating at least a little interest, until boat 2545 suddenly turned turtle (an amazing feat considering the zero knot breeze!). Unsurprisingly after a pleasant drift around, races were cancelled for the day.
Sat's DAY 2 and the forecast was more favourable, glorious sunny skies with light to moderate SE's both of which stayed for the day! However upon awaiting the arrival of the seasbreeze, conditions on the water were hot. Competitors one after one decided to take a necessary `cool off'. As dolphins came to see what was happening, it became the Tasar Association's biggest ever group swim with these marine mammals. Fortunately once the first shark sighting was made, the wind filled in from the SE and races were on the way! 4 races were efficiently executed that afternoon with all clean starts. Earning a bullet each In Races 1& 2 were `Ridgididge' and `Blurred Lines', with Races 3 & 4 taken by `Serendipity'. Jumping into the top 5 positions in each of the various races were Trouble, Navy Sailing, Positively Undecided, `2SheepStations' (GRSC's Bernie& Sarah Streater), `Vivace' (BSC's Brad Stephens& Jen Overton) & `Ratz' (GRSC's Gary& Robyn Ratcliffe).
Easter Sunday DAY 3 proved slightly breezier conditions allowing the running of 3 further races, constituting 7 all up, and permitting a mandatory drop of a competitor's worst score! As winds ranged from moderate to almost fresh in strength, we witnessed a bit more excitement ~ fully hiked reaches, a couple of capsizes and many sudden calls& wayward manoeuvres at the marks. The boats that came in our State Title's top 3 scratch positions, each took a win through Races 5 to 7. Respectively they were Serendipity, Ridgididge, and Navy Sailing. Notably, Race 6 proved extremely tight with only 20 secs separating 1st to 5th, and 5 secs separating 1st to 3rd (and `Trouble', after her both spectacular &`caught by the official mark's boat video capsize', using this race position as their drop!). Popping their heads into the top 5 again were Blurred Lines, Positively Undecided, Vivace, Ratz, Trouble and `Another Roady' (BSC's Peter Davies& wife Pia).
So it is congratulations to the leaders in the Scratch Division, and especially to Paul & Bronwyn Ridgway in taking out 2 prestigious Trophies ~ State Champions and Super Grand Masters! Our other Division winners were `Trouble' (Quirky & Marise) 1st in Grand Masters; `Navy Sailing' (Rick & Darryl) 1st in Masters; and, `Blurred Lines' (Tara Wilson) 1st Female Helm.
In addition, our top 5 NSW State's Handicap winners also require congratulations. They are 1st `Tranquil Shaw's' (GRSC's Cameron & Eva Shaw); 2nd `Madman' (GRSC's Sean Mullin & Jenny Sorensen); 3rd `Something Cool (NSC's Malcolm Handel & Kerry Fyfe); 4th `More Edge' (BSC's John Balass& Heather Forton); & 5th `Another Roady' (BSC's Pete Davies& wife Pia).
Finally, there is always a big list of people to thank for getting both `in front of and behind the scenes' to make Regattas happen. Briefly in this instance it is the members and volunteers of the Port Stephens Sailing & Aquatic Club and Yacht Club (boats, catering, venue, safety), our PRO & Results organiser Jeremey Atkinson, our TANSW Committee & members volunteering their time, Heather Forton, Clare Woods & Fiona Powell. Recognition is also made to our Event Photographer `Beth Morley' on Saturday who worked her way around various parts of the race course capturing fabulous photos that will be released on social media plus link on the web also soon .
Lastly, keep in mind the necessity to book accommodation if you are planning to attend the Tasar Association's next major event Nationals at Port Stephens 30 Dec- 7 Jan 2017. Port Stephens proved to be a wonderful venue & location for this season's NSW State Titles and we look forward to seeing many of you back here again at New Year!
Jenny Sorensen
TANSW Publicity Officer 2016/17
Pic below ~ Start of Race 4 on `Day 2' of the 2016 NSW Tasar Championships, courtesy of Beth Morley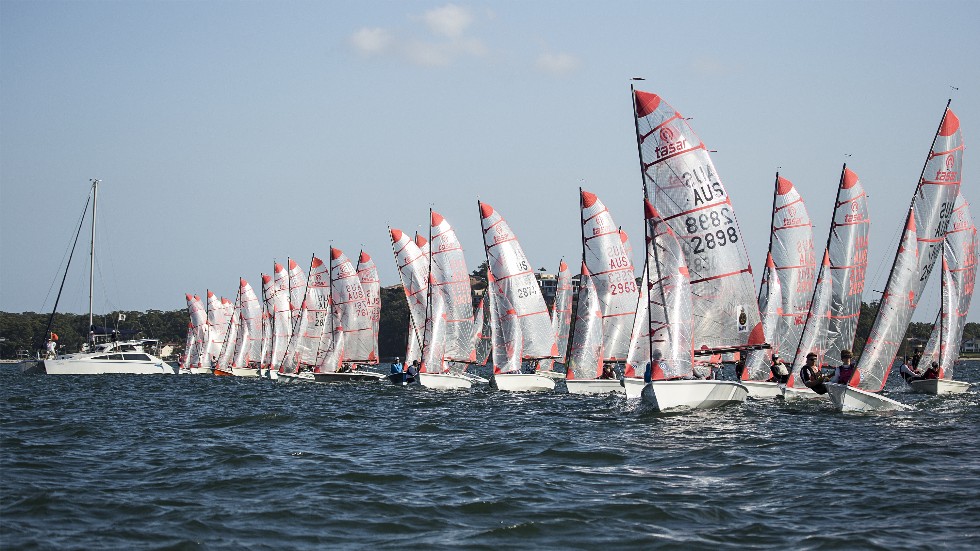 Photo Gallery -
Day 2 photos (courtesy of Beth Morley of SportSailingPhotography)
Photo Gallery -
Presentation Night photos (courtesy of Fiona Powell fpowell2009@gmail.com)
Results -
2016 NSW Tasar Championship Results
Notice of Race (NOR)
Download the Notice of Race: 2016 NSW Tasar Championships NOR Amdt
Download Sailing Instructions 2016 NSW Tasar Championships SI's Amdt


Online entry Form
Enter now via the online booking form (TryBooking website)
Entries received
View the list of entries received as of 23 March 2016
Upon arrival - Proceed straight to rigging area
The recommended rigging area to the North of the club will be open from 12pm on Thursday 24th March.
Trailers should be left in the separate Trailer parking area indicated.
There is limited parking and boat storage at the club, and so competitors are strongly encouraged to avoid bringing vehicles & boats to the club.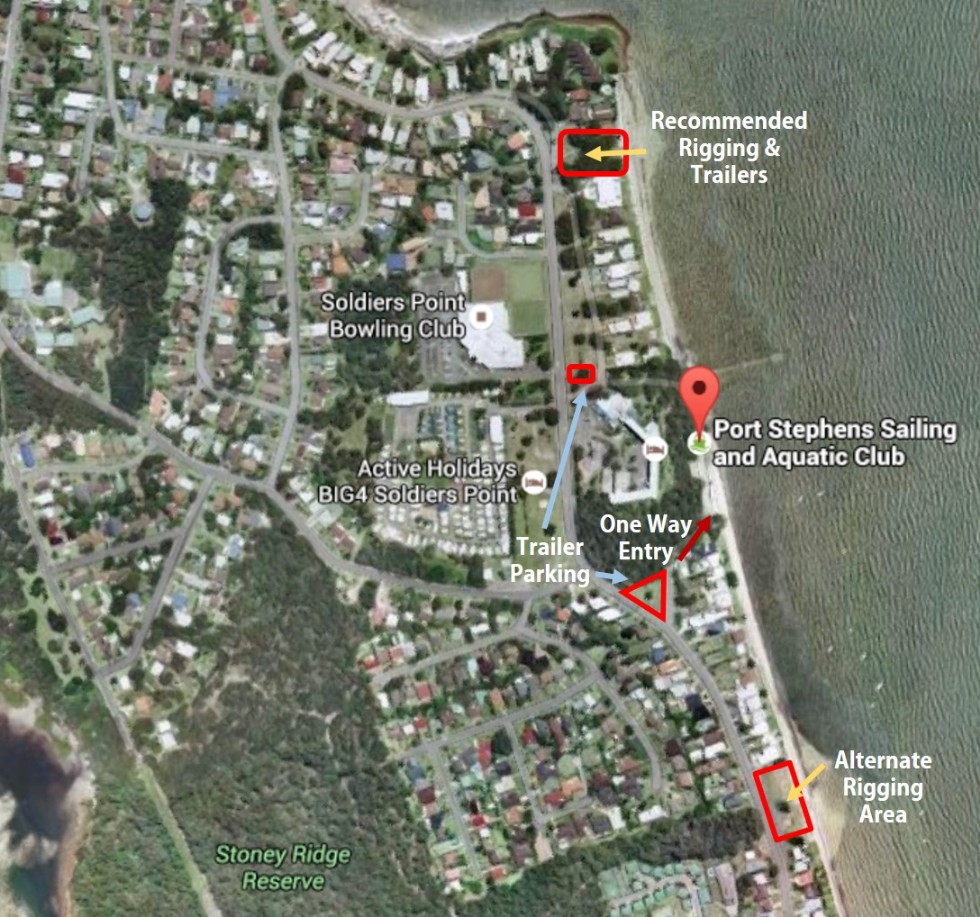 Alternative rigging areas
For those who wish to spread their wings, other rigging areas do exist - however competitors are reminded that sign off, at this stage, will be based at the club.
Venue
Port Stephens Sailing & Aquatic Club
Address: Seaview Crescent, Soldiers Point, NSW 2317
Website: http://pssac.myclubwebsite.com.au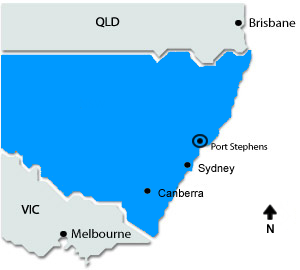 Click image to launch Google Map: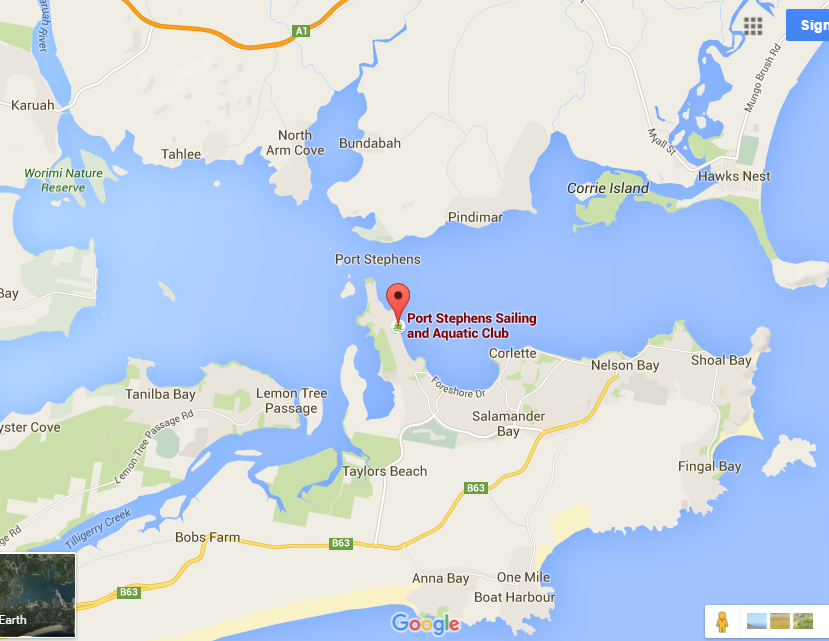 For those who wish to spread their wings, other rigging areas do exist - however competitors are reminded that sign off, at this stage, will be based at the club.